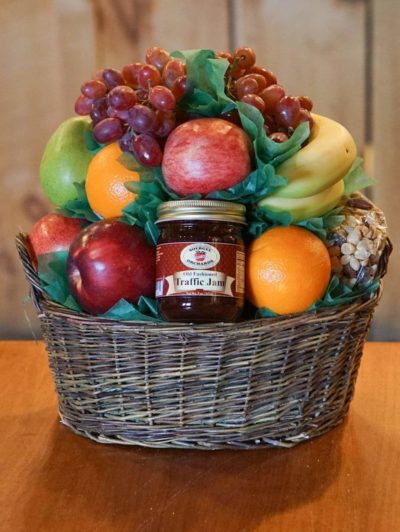 Fruit Baskets
Soergel Orchards fruit and gift baskets are perfect for any occasion and we are happy to work with any budget. Whether it's a housewarming, baby shower, for sympathy, or a congratulations on a new job, we will work with you to cover your needs. If you'd rather customize a basket, feel free to choose from our wide selection of fresh fruits, vegetables, baked goods, gourmet items and wines, and we'll arrange them beautifully and top them off with wrapping, ribbon, and a bow.
Want to share your favorite Soergel apples with family around the country? Check out our apple chart to see what varieties are available for shipping!
Please call one of our basket experts to discuss our options for corporate gift-giving needs.
A colorful array of delicious fruits including crisp apples, juicy citrus, beautiful bananas, and a perfect bunch of grapes to top it off. This basket includes approximately 12 pieces of fruit and is a perfect "pick-me-up" for any occasion. $24.99+tax
This signature basket includes approximately 15 pieces of fresh fruit plus your choice of Soergel's own scrumptious apple butter, candy, or nuts… a housewarming favorite!. $34.99+tax
If you want to leave a great impression, this one is for you. The basket includes approximately 18 pieces of colorful fruit, plus Soergel's own apple butter, candy, and nuts. $44.99+tax
Great for an office or larger family, this basket contains a plentiful variety of approximately 20 pieces of fruit, our own apple butter, candy, nuts, cheese and crackers. $54.99 +tax
Specialty Baskets
The Wine Basket is a delightful combination that serves as a celebration in a basket and features your choice of Arrowhead Wine, crackers, cheese, nuts, jelly, Wind and Willow cheeseball mix, and Holman's Chocolates. $54.99+tax
Our breakfast basket makes for a great hostess gift, and features granola, pancake mix, syrup, muffin mix, biscotti, tea, Soergel's coffee and Soergel's apple butter. $54.99+tax
Pie & Cookie Wreaths
A unique Soergel signature item! We take a fresh baked apple pie and surround it with a colorful variety of sweet fruits such as apples and oranges. Other fruits may be used depending on availability. $34.99+tax
A tasteful variety of cookies surrounded by an assortment of vibrant fruits. Approximately 2 dozen cookies are used for this cookie wreath, depending on the size and type of cookie. $34.99+tax
This pie and cookie wreath is a dream for anyone with a sweet tooth! It has a deliciously sweet apple pie, with a scrumptious assortment of fresh baked cookies. $34.99+tax
Custom Baskets
We design custom gift baskets for all occasions! Choose a theme or let us design something special for you. Some Popular themes include "Snacks & Candies", "Coffee & Teas", "Italian Dinner", and "Chocolate."
Start at $54.99