It is our mission through the Garden Center Educational Series to engage and educate the community and help every gardener realize his or her full potential. Students learn vital information on seasonally specific subjects from both our own resident experts and traveling guest instructors. Classes are typically held on the third Thursday of the month at 7pm and cost $5, which includes the price of materials, instructions, and a $5 rebate on Garden Center merchandise the night of the class.
OUR NEXT CLASS: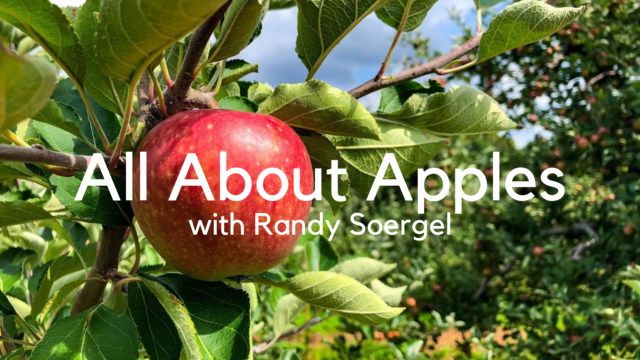 For hundreds of years, the Soergel family has been growing apples right here in our area. Now is your chance to tap into generations of experience and learn all about apples from the man himself, Randy Soergel! Whether you grow apples or just like eating them, Randy's apple talks are always a crowd favorite. Best of all, you can try some samples, fresh picked off the trees! Admission is $5 and includes a $5 coupon to the Garden Center.
CLICK HERE to register now!
January 16, 6:30 PM – Houseplants 101

February 21, 6:30 PM – Seed Starting with Doug Oster

March 21, 6:30 PM – Jonathan Green Lawn Care

April 18, 7:00 PM – Secrets to Successful Soil with Anita DaFonte from Coast of Maine Organics

May 16, 7:00 PM – Gardening with Jessica Walliser

June 20, 7:00 PM – Herbs with Andrea Jackson

July 18, 7:00 PM – Perennial Gardening

August 15, 7:00 PM – "Oh Deer!" Deer Resistant Gardening

September 18, 7:00 PM – DIY Airplants 

October 17, 7:00 PM – All About Apples with Randy Soergel

November 21, 6:30 PM – Birding with Aspen Song Wild Bird Food