It is our mission through the Garden Center Educational Series to engage and educate the community and help every gardener realize his or her full potential. Students learn vital information on seasonally specific subjects from both our own resident experts and traveling guest instructors. Classes are typically held on the third Thursday of the month at 7pm and cost $5, which includes the price of materials, instructions, and a $5 rebate on Garden Center merchandise the night of the class.
Our Next Class:
Herbs with Andrea Jackson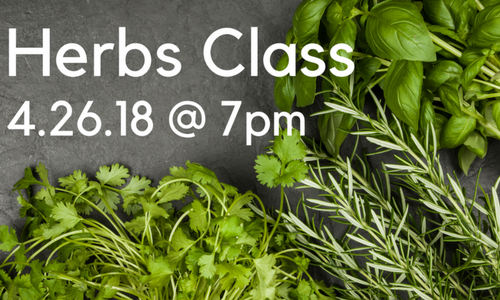 The best and most fun way to get the freshest herbs is to grow them yourself! On Thursday, April 26 at 7:00pm, Andrea Jackson will be back again this year to teach you all about how to best grow and use herbs. From tea, to seasonings, to cocktails, and medicine, there is a dizzying array of herbs and uses. Admission to this class costs just $5, which can be used toward any Garden Center purchases. Join us for this fun and informative evening! To sign up now, CLICK HERE
Coming up soon:
Rock Gardening with Len Lehman
Len Lehman of the North American Rock Garden Society (NARGS) will be here to teach about Rock Gardening. NARGS is for gardening enthusiasts interested in alpine, saxatile, and low-growing perennials. It encourages the study and cultivation of wildflowers that are suitable to the rock garden. Len is truly an encyclopedia of plant knowledge, and his lectures are densely packed with info. If you're an experienced rock gardener or interested in starting a rock garden, Len is a great resource for the plants and methods proven to work. This class costs $5, and includes a $5 coupon to Soergel Home & Garden.
CLICK HERE to sign up now.
Containter Gardening with Jessica Walliser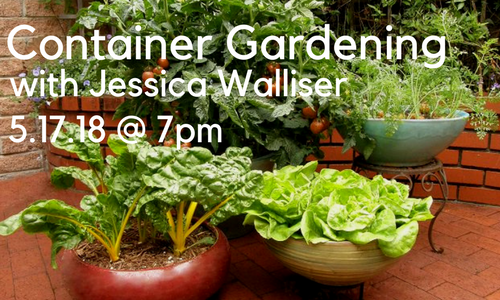 If you don't know Jessica Walliser, you should! She is – among many accolades – the co-host of "The Organic Gardener" on KDKA-Radio, a gardening columnist for the Tribune-Review, contributor to multiple gardening publications, and author of several phenomenal gardening books. Don't miss your chance to see one of her wonderfully fun and informative presentations right here at Soergels' on Thursday, May 17th at 7:00PM, this time, all about container gardening.
Learn all of the amazing things you can do with container gardening from a true expert. Admission to this class is only $5 and includes a $5 coupon to Soergel Home & Garden.
CLICK HERE to sign up now.
Jan. 18 at 6:30 pm – Houseplants 101

Feb. 15 at 6:30 pm – Starting Now for the Best Garden Ever! with Doug Oster

April 12 at 7:00 pm– All About Lawn Care with Jonathan Green

Apr. 26 at 7:00 pm – Herbs with Andrea Jackson

May 3 at 7:00 pm – Rock Gardening with Len Lehman

May 17 at 7:00 pm – Container Gardening with Jessica Walliser

Jun. 21 at 7:00 pm – All About Perennials

Jul. 19 at 7:00 pm – Cocktails from the Garden with Anita Dafonte

Aug. 16 at 7:00 pm – Fairy Gardening

Sep. 20 at 7:00 pm – DIY Terrariums and Airplants

Oct. 18 at 7:00 pm – All About Apples with Randy Soergel

Nov. 15 at 7:00 pm – Local Bird Feeding with Aspen Song Wild Bird Food