It is our mission through the Garden Center Educational Series to engage and educate the community and help every gardener realize his or her full potential. Students learn vital information on seasonally specific subjects from both our own resident experts and traveling guest instructors. Classes are typically held on the third Thursday of the month at 7pm and cost $5, which includes the price of materials, instructions, and a $5 rebate on Garden Center merchandise the night of the class.
OUR NEXT CLASS: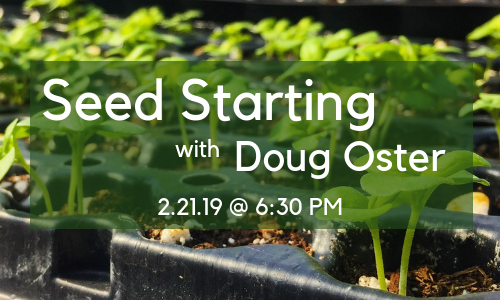 Seed Starting with Doug Oster
Thursday, February 21 at 6:30
Whether you like veggies, herbs, or flowers, starting from seeds is fun, rewarding, economical, and probably easier than you think! Doug Oster will be joining us on Thursday, February 21 at 6:30 PM to teach the keys to starting seeds indoors. If you don't already know, among his many gardening accomplishments and accolades over the years, Doug is the editor of Everybody Gardens and co-host of The Organic Gardener on KDKA radio. His classes are not only packed with great info, they are loads of fun! So whether you're a seed-starting expert or you would like to try for the first time, you don't want to miss this class. Admission is $5, and includes a $5 coupon to the Garden Center.
CLICK HERE to sign up now!
January 16, 6:30 PM – Houseplants 101 (We had a blast!)

February 21, 6:30 PM – Seed Starting with Doug Oster

June 20, 7:00 PM – Herbs with Andrea Jackson

September 19, 7:00 PM – TBD

October 17, 7:00 PM – TBD

November 21, 6:30 PM – TBD

December 12, 7:00 PM – TBD