Unique treasures from around the world line the walls and tables of our Home Accent Center. Our talented team seeks out and selects only the most interesting, unique, top quality pieces that are guaranteed to add beauty and interest to any setting. You'll be delighted with our selection of pictures, furniture, lighting, place settings, wall hangings, artisan crafts, and so much more!  
Our talented designers create unique centerpieces and arrangements for weddings, funerals, as well as corsages, boutonnieres, custom wreaths, bows, etc. Arrangements are made upon request, and can include fresh flowers, silks, and/or live plants (depending on seasonal availability).
Call us at 724.935.2090 for more information.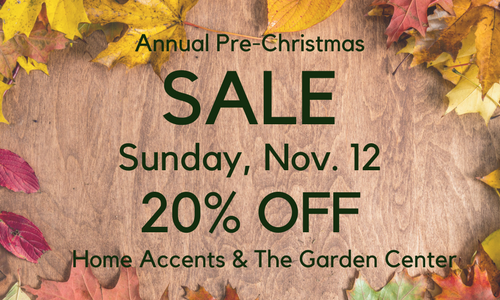 Our annual Pre-Christmas Sale will be on Sunday, Nov. 12 from 8 AM – 6 PM! Everything in Home Accents and the Garden Center is at least 20% OFF! Come find great deals on home decor, Old World Christmas Ornaments, plants, and more! The sale is one day only. No presale is available, and discounts cannot be applied to prior purchases, so be sure to stop in on the 12th!